About Us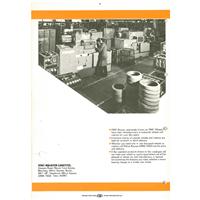 BRAUER is a British owned manufacturing company In its 33,000 sq ft, factory in Bletchley Milton Keynes which started manufacturing in 1926 as HMC WHEELS LTD with the production of plain rubber wheels; much of the product in those days being exported to India for the jute and tea industries. Over the years HMC developed the range of industrial heavy duty wheels and industrial heavy duty castors from its premises in Hornsey, North London, becoming one of the manufacturing market leaders in the UK, for the supply of heavy duty wheels and castors including Polyurethane vulkollan wheels under the Brauer brand name Heavithane.
In the early 1970's Cope Allman Group acquired HMC and relocated it along with F W Brauer Ltd another acquisition, to new purpose built premises in Bletchley, Buckinghamshire, which today forms part of the new city of Milton Keynes.
F.W.Brauer Ltd. was founded in 1946. The company designed and manufactured what is today the world famous Orange handle grip(TM).Toggle Clamps from the factory in Harpenden Hertfordshire; The TC toggle clamp model range was one of the first patented designs of Toggle Clamps in the world, being introduced to the aircraft and motor industries, bringing a whole new range of Clamping process tools to the market.
The company manufactured many other products as diverse as, component parts for the De Havilland Comet aeroplane, Tie racks, ´Jerrycan´ filling machines, fishing reels, lanterns, screw jacks, as well as over 100 different models of clamps.
In 1975 the full merger between the two companies took place; an expansion of the Bletchley premises was finished in early 1976 and the complete integration of the two companies soon followed. Brauer is still located at this site today and is 100% British owned and still a 100% British manufacturer of all Brauer products at the Bletchley site.
Brauer has added many new products, from special application involvement, experience gained from the market place and from working with the best engineers in the sector. Brauer now has a range of Air transportation products called Airmovers and Components for machine process applications and standard parts for machinery and application set ups.
Brauer offers a standard "off the shelf" heavy duty Industrial wheels and castor product range and in addition designs and manufactures Industrial wheels and industrial heavy duty castor units for individual projects, with carrying capacities exceeding 150 tonne. Equally impressive, our vast range of manual and pneumatic Toggle Clamps are now, distributed worldwide to more than 40 countries.
Brauer Toggle clamps are used by and approved by the automotive industry worldwide, Brauer is their toggle clamp of choice, why not make it yours.
To view the full range of Brauer products please explore our website.
Acknowledgements and Disclaimer:
Vulkollan® is the registered trade mark of Bayer AG.
Heavithane® is the registered trade mark of Brauer Limited for Polyurethane Wheels.
Brauer Products are manufactured in Milton Keynes, England. © Brauer Limited. The marks ´BRAUER´, ´HMC Brauer´ and ´HMC Wheels´ are registered trademarks of Brauer Limited. The ´Orange Grip (TM) ´ is a registered trade mark of Brauer Limited. No part of this publication may be reproduced in any form, other than where specified, without the written permission of Brauer Limited.
Country:
change
United Kingdom